For Groups: Learn how to make Venetian masks at a real workshop: the best mask shop in Venice.

Venetian mask making, when it is done correctly, is not a trivial thing. The techniques are easy enough to explain, but the execution requires real craftsmanship and artistic vision. For this reason, our Venetian mask making course centers around a particular mask model: the bauta.

The bauta mask is probably the most recognizable of Venetian carnival masks, and has a shape that allows even beginners to attain satisfactory results. In this course, participants will get a full immersive introduction to Venetian mask making in order to truly appreciate how a Venetian mask is made. As result, the finished product of their own efforts always gives a real feeling of accomplishment. This is a superb course for large groups that creates a sense of shared progress and above all fun.
---
Introduction (30 minutes):
We explain the use of the bauta mask and compare and contrast it to the moretta mask, both being highly recognizable Venetian masks.

Learning the meaning and the cultural significance of Venetian masks before they embark on how to make a Venetian mask is very important. Participants' own artistic efforts are effected when they learn that the Venetian masks in question were an essential part of daily life in Venice long ago.

To fully convey the many aspects of Venetian masks, we put on a bauta mask in front of the participants. And with the help of antique paintings and prints, participants get to see how the bauta mask and moretta mask were used in day-to-day life in various parts of the city's cultural life - from the cafes to the places of government power. The introduction to the course is an exciting way to prepare groups for the hands-on component.
---

Hands-on (two hours):

We show group participants how to make Venetian masks using the age-old standard technique. We demonstrate each stage in the process of Venetian mask making, projecting onto a big screen everything that the instructor does so each participant can see it fully.
We create an individual bauta mask in cartapesta, using a plaster (gesso) mold and our own special absorbent paper. Only straightforward, traditional materials are used - no machines or power tools - in other words, exactly how a Venetian mask is made using authentic techniques.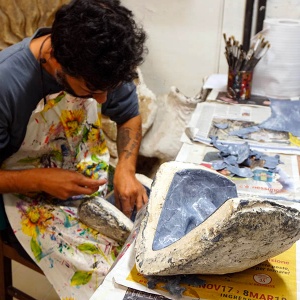 Once the mask is finished, the cartapesta (papier-mâché) must be allowed to dry for at least one day before participants can extract their bauta mask. If the mask is too weak or has obvious faults, we will improve it before delivering it to the customer so that everybody stays happy.
To get a full introduction to the subject of how to make Venetian masks, subsequent to this course, we recommend a course on how to decorate Venetian masks. Venetian mask making, of course, has at least two parts: how to make Venetian masks and how to decorate Venetian masks. Participants in the second course get to extract Venetians masks from the mold, and further learn how to decorate Venetian masks - in this case, the bauta mask - with their own hands. Thus, they get to see how a Venetian mask is made from beginning to end.
In addition to their own mask, participants learning how to decorate Venetian masks will have access to a second blank, pristine mask of their choice out of more than 60 different varieties available. All of our masks are made by hand of authentic cartapesta using proper techniques - the very same techniques participants saw and learned in the first course.
(For a more detailed description of the decorative process, see our page: "How to Decorate a Venetian Mask course")
(Per una descrizione più dettagliata sulla decorazione, vedi la pagina del "Corso di Decorazione di Una Maschera di Cartapesta")